If you are needing a new roof, roof repair just an inspection, you are probably on the lookout for a trusted roofing company. To many this is a daunting prospect and sends chills down the bravest of spines! How do you know who to trust? Will they do a good job?
No fear, we are here to help! If you follow this advice you are sure to find a trusted trades person who will do guaranteed work and give you an excellent finished product.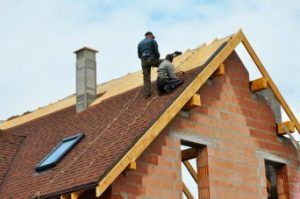 Is Your Roofing Company Recommended?
The best way to put your mind at ease is to use a roofing company who has been recommended by friends and family that have already used them and are happy with the work. Failing that, look at their website – you should be able to see examples of their previous work and they should have reviews from other clients.
It is okay to ask for references! Previous customers can tell you what they are like, if their work is quality, if the project was true to the quote, if they turned up when they were supposed to and if they cleared up after themselves.
Ask for a quote
A trusted roofing company, like our team here are Independence Roofing will happily come round to assess the work you want doing and provide you with a free, detailed quote. By doing this you will meet the people who will be in your house doing the work – a good chance to suss them out! Plus, they should give you a good idea of costs and time frames whilst they are there.
After a few days you should receive a full, detailed quote. It should include full details of what will be covered during the work and what won't be. This includes material supplies, clearance, labor costs and any site maintenance.
Is the work external? Ask them if you will need planning permission. They should be able to answer this, especially if they will need to apply for building regs.
Choosing the right company for you
So you have the detailed quotes, you've met the guys who will be doing the work and they all seem nice! How do you decide? A good rule is to go down the middle and choose someone who will not charge the most or least, and someone who estimates a good, but not scarily quick, time-frame. A quote for extremely quick and cheap work should set alarm bells ringing.
Are they insured and do they offer guarantees?
Check out the guarantee, a trusted roofing company will be insured. We can proudly say all our work is fully licensed and insured. Any roofing provider should be covered to protect themselves against damage to your property and have public liability insurance that will cover and harm to you or the public the work may cause.
Be straight about money, get things in writing and avoid paying a cash deposit upfront!
Large building materials will probably have to be bought upfront – make sure they are bought in your name! Other than this you should not be paying for work that hasn't been carried out yet. If they ask, it could be a sign they are in financial trouble. Agree payment terms in writing – the work should cost you what has been quoted, unless something unforeseen happens like having to move a gas pipe. Your contract should cover everything from start/completion dates, the cost of work and materials and hours of work to toilet arrangements (very important if you are not at home for the build and do not want them coming into the house!)
Lastly, get proof of payment – you need this to have a valid contract. Remember – never do anything you are uncomfortable with and if in doubt ask them, ask previous clients, ask their referees, ask local councils. A trusted roofing company will be happy to supply referees etc.
At Independence Roofing, we are proud to be one of the most trusted professional roofing companies in San Antonio. We come highly recommended and approach every project with all the care and attention it deserves.
Request a quote from us today! We'd love to hear from you.
Also check out some past clients here or you may enjoy some of our other articles here
We are proud to be members of the Better Business Bureau