Get TO Know
Providing Roof Repairs
San Antonio TX Services
An honorable roofing San Antonio company always delivers on time, providing quality material and knowledgeable answers, or suggestions. However, from time to time things can go wrong, however, experts in the field will know how to correct problems in no time, allowing an ample amount of time for a solution and an updated deadline to the client. Honest roofers will install, repair, and have the knowledge to repair roofing systems at all cost. This is including conventional or the inverted built-up that a home may have.
The types of roofing repairs San Antonio families and businesses will face are typically minor and can be fixed right away. Proper annual roofing maintenance will always help the lifespan of your roof and we recommend getting annual inspections every single year. Just about any residential roofing San Antonio contractor can conduct a roofing inspection to standard. We do provide inspections for both commercial and residential. The most common types of roofing problems requiring repairs are:
Request a Free Estimate
Top Roofers in San Antonio. Specializing in Roofing Repairs and Replacement. Free Estimates
Our Speciality
Value

01

We value or customers time, money, and safety

Licensed

02

We're licensed, insured and bonded roofing contractors

Affordable

03

We provide professional affordable roofing services

Quality We Ensure

04

We strive in being honest, keeping promises, and providing quality workmanship
Metal Roof needing Roof Repairs
The Correct Roof Repair By
a Reputable Roofing Company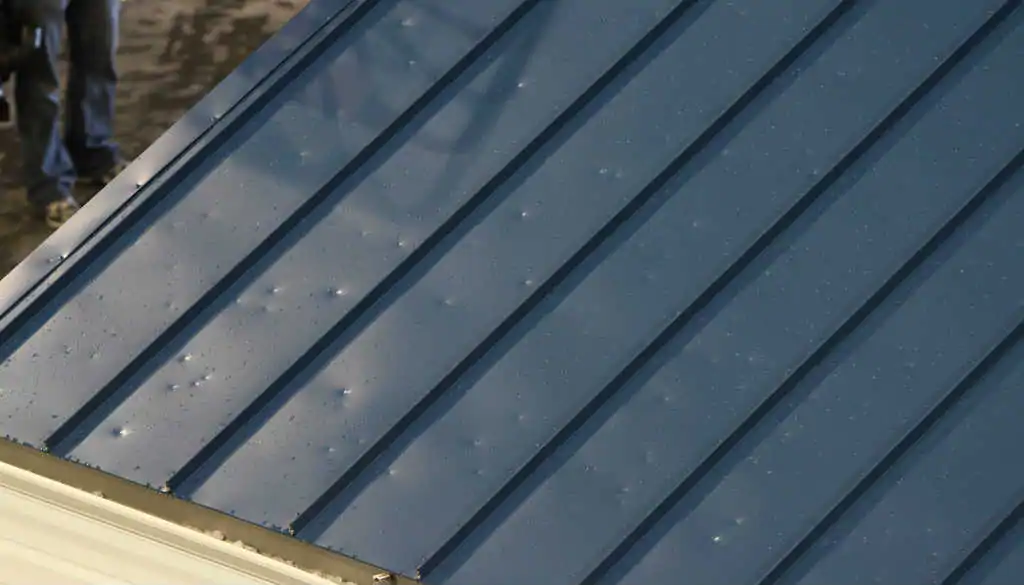 Photo of Metal Roof needing Roof Repairs
Metal roofing repairs are most common after hail storms or adverse weather. We also specialize in metal roofing as well as shingle, tile, and other types of roofing materials.
An expert will know that they can not just re-shingle a piece in some conditions. This can make matters worse because there are short-term and long-term fixes. Many facts need to be relayed to the client. In fact, a roofer who is honorable will explain to a customer that after about 25-30 years you will need to replace an entire roof. Repairs can be done as needed, but a complete inspection needs to be done by a certified roof repair San Antonio inspector. You cannot replace a shingle that is damaged without looking at the entire roof. Any roofing San Antonio company that is replaces a couple shingles here and there you should steer clear away from.
This will mean a quality amount of time to remove layers of shingles on the original roof. But, this also means that the tar-paper wood underlay will also have to be replaced to create a secure boundary. The wood must then be replaced and new tar-paper put down. San Antonio roof repair is typically caused by elements like weather. We have extreme heat and we also have hail and rain.
This takes skill to manage the balance and actual replacement of the roof. There should be good quality shingles to put the roof on and the honor is that they will always ensure they have the skills when dealing with guttering and eaves.
Contact Form
Need Any Roofing Help?
How Much is Roof Replacement Cost in San Antonio?
All pricing is based on sqft and materials. The types of materials of course will drive costs up or down. We will ensure your roof is safe and your family or business is secure, but we do not compromise quality when it comes to materials. Our estimates can sometimes be done over the phone or in a quick 30 min visit. Roof replacement versus repairs could be an option depending on the price. A good rule of thumb is to multiply the repair amount by 5 and get a quote for the entire roof to be replaced and if the repair is higher multiplied by 5 you should get a replacement. A San Antonio roof can take a beating during the winter months, later in the spring many home owners discover leaks or damage to the roof which ultimately get worst with time.
The idea is to create a strong boundary for weather-proofing needs of a roof. This is along with installing and repairing slate, shingles, or the tile that resurface on a roof. Honorable roofers always carry the right kind of ladders, tools or equipment. Using out-of- date, or non-quality tools, can lead to a damaged roof. All roofers have to work in different conditions to patch up holes securely or repair the entire roof. We have the right equipment for any roofing repairs San Antonio homes may encounter. Ensure you choose a qualified Roofing San Antonio Contractor like Independence that can handle residential or commercial roofs.