Trusting A Roof Replacement Company in San Antonio
Regardless of how well they're installed and what they're made of, roofs don't last forever and they will eventually need to be replaced. And when that time comes, you'll need to find a reputable roofing contractor to come out and inspect your roof, before giving you an estimate on what it will cost to have the work done.
There are many variables to consider when determining the price of a new roof, among them the size of the roof, the pitch, how easy or hard it is to access and the cost of the materials that you'll need to replace your existing roof. The study of these variables are part of the things you should expect during a roof inspection.
Roof Replacement Planning
Because of this, prices can vary pretty drastically. It might be a good idea to obtain a few estimates, so you'll be able to compare companies, quotes and references.
The biggest factor when it comes to roof replacement is the actual size of the roof that's going to be worked on. Roofers generally charge per roofing square, so the more squares there are on your roof, the more expensive the replacement of the roof is going to be. That's why roofers make roof inspections to determine your roof needs.
At the end of the day, the cost to replace your roof is going to depend on a number of different factors. What type of roof do you have? In what area of the country do you live in? How big is the actual roof? Are you replacing your existing roof with the same type that you had before? is it an emergency roof repair?
As mentioned before, roofers charge per roofing square when installing a new roof on a residential home. But if you have a complex roof design, you could also be looking at an additional cost due to extra materials that will likely be needed.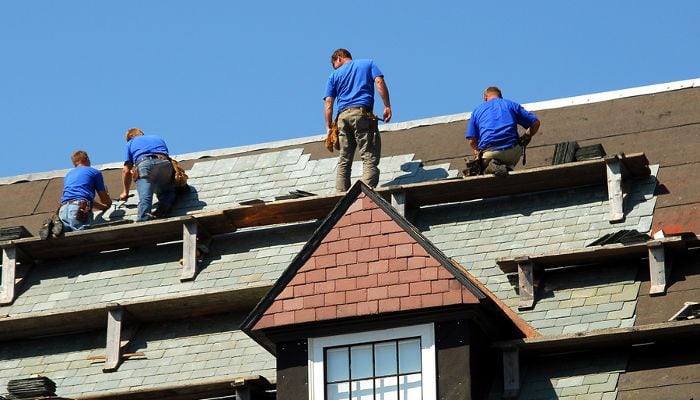 Roof Replacement Costs in San Antonio
But if you have an asphalt shingle roof, which is the most popular roof type in America, you're probably looking at anywhere between $3 to $7 per roofing square. Add in labor and other costs and the average asphalt shingle roof replacement will run you at least a few thousand dollars.
Another large variable when it comes to determining cost is the roof's pitch, or slope. Some roofs have a high pitch, while others have a low pitch or even no pitch at all. These are all factors that will help determine the final cost of your roofing project.
Other items that can add to the cost of your new roof include accessibility to the roof, the weight of the roof that's being torn off and if you want materials that are more costly than traditional asphalt shingles.
In general, asphalt is the most affordable roofing option in the United States and our metal roofing San Antonio specialists explain that it is followed by metal, wood, tile roofing and then slate. But while a good asphalt shingle roof may last for 30 years, the other types mentioned could last for twice as long.
So these are all factors that you need to consider when the time comes to replace your existing roof.
Lastly, there are a few other factors that can alter the final cost of a roofing project, including if there's significant water damage, whether your home has chimneys and/or skylights and whether or not you want to completely tear away the existing roof before adding on the new one.
Just consider all of these factors, and talk to several roofing repair San Antonio, San Antonio roof replacement or emergency roof repair San Antonio companies before signing a contract for a new roof on your home.
Doing your due diligence is key in this and any other home improvement project.